No, we do not franchise.
family owned and operated since 2005
Food in Xi'an
The city of Xi'an, situated in the northwestern region of China, has long been known as the first capital of China and the resting place of the famous terra cotta soldiers. As the starting point of the Silk Road, however, the city also boasts a unique cuisine that combines Chinese and Middle Eastern flavors. Heavy in cumin, chili, Sichuan peppercorns, and other spices, local specialties range from famous hand-ripped "biang biang" noodles, seared in hot oil, to lamb "burgers" with a jalapeño kick. Not for the faint of heart, but famous for a reason.
History of Xi'an Famous Foods
Xi'an Famous Foods began as a 200 square foot basement stall in the Golden Shopping Mall in Flushing, N.Y. The original location, established in late 2005, was the first restaurant to bring the little-known cuisine of Xi'an to the United States, with signature hand-ripped noodles, secret spice mixes, and Xi'an "burgers" with housemade flatbread. Since then, we've expanded to multiple locations in New York's Manhattan, Brooklyn, and Queens boroughs. As a family-owned business, we hope to reintroduce the world to the unique cuisine of our hometown: liangpi "cold skin" noodles, lamb pao mo soup, and wide hand-pulled "biang biang" noodles, all in its most authentic form.
Our Locations
Please note: if a store is open for business but yet is not listed below and is open for business, it is most likely a copycat, and we would like to hear about it. Please send us a note.
MANHATTAN
Su-Th: 11:30-9:30
Fr-Sa: 11:30-10:00
Su-Th: 11:30-10:30
Fr-Sa: 11:30-11:00
Re-opened after renovations!
Su-Th: 11:00-9:00
Fr-Sa: 11:00-9:30
Su-Th: 11:30-9:00
Fr-Sa: 11:30-9:30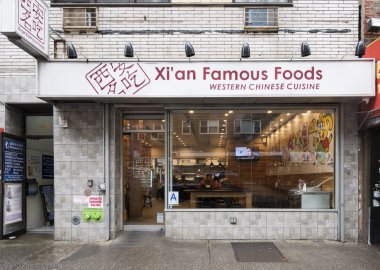 Su-Th: 11:30-9:00
Fr-Sa: 11:30-9:30
Su-Th: 11:00-9:00
Fr-Sa: 11:00-9:30
M-Fr: 11:30-3:00
Sa-Su: Closed
Su-Th: 11:00-9:00
Fr-Sa: 11:00-9:30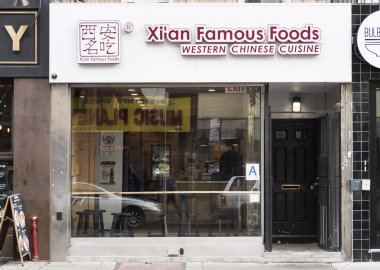 Su-Th: 11:30-9:30
Fr-Sa: 11:30-10:00
Contact OUr CEO
Do you have a question about the food or would like to give feedback on your experience? Jason, our CEO, want to hear from you! All messages from this form go directly to his work email, and he will personally make sure your concerns are addressed!
But first, please take a second to read through the following notes first, as they may instantly answer your concerns:
For up-to-date store hours, please refer to our Locations page, as it is always immediately updated, especially whenever we have holiday hours or special store closures.

For lost items, while we cannot take responsibility for lost items, you should try to immediately visit the store where you may have lost your item in person, as item must be claimed in person if it is there.

For media inquiries: please do not send last minute requests and expect immediate response. Only professional courtesy will be reciprocated with a response.

Consultation or participation in studies by our management involves an hourly consultation fee, and only serious inquiries are considered.
Please also consider the following policies before sending:
We do not deliver or take orders by phone at this time, but *sometimes* take orders over $200 in advance. Please see Menu page for details.

We do not currently have any peanuts/nuts products in our food! Sesame seeds and oil are prevalent, though.

No reservations are accepted.at any stores.

We do not franchise, and do not plan to do so in the near future.

We are not interested in any form of paid advertising campaigns.

We will not be able to share our recipes for any of our products, as it is our livelihood.

Please, no solicitations in general. They will go straight into the trash.
Thank you!